NOTICE: If you will be registering for a Pesticide Workshop in 2019 a manual will be included in th"> NOTICE: If you will be registering for a Pesticide Workshop in 2019 a manual will be included in th" />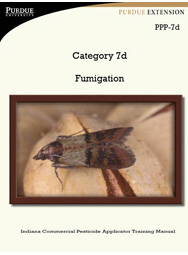 Product code: PPP-7d
NOTICE: If you will be registering for a Pesticide Workshop in 2019 a manual will be included in the price of registration. If you have questions please call The Education Store @ 765-494-6794.
This manual is a study guide to help commercial pesticide applicators prepare for Indiana's Category 7d, Fumigation certification test. The manual addresses the identification and biology of stored product pests, proper fumigant handling, and dosing and monitoring information.
Check our Pesticide Training Manuals page for titles of all our pesticide manuals.
Pages: 74.
Language: English.
Format: Manual.
Purdue Pesticide Program Study Manuals are nonrefundable.
9/9/2009
Andrew Martin