Product Code: FS-31-W
Foodborne illness is an economic burden to public health; one in six Americans are sickened annually from consuming contaminated food. Teenagers are increasingly involved in food handling. This curriculum, based on the More...
Free Download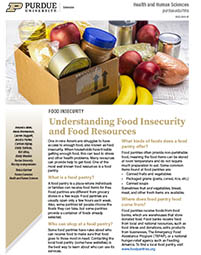 Product Code: HHS-844-W
One in nine Americans struggles to have access to enough food, also known as food insecurity. When households have trouble getting enough food, this can lead to stress and other health problems. This publication, from Pu More...
Free Download