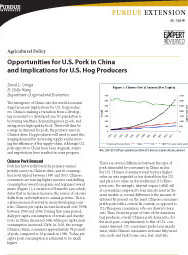 Product Code: EC-758-W
This 4-page publication explains the future opportunities for U.S. hog producers and the steps they will have to take in order to meet the Chinese market's increasing demand for pork. More...
Free Download
Product Code: EC-749-W
5-page publication focusing on U.S. Farm policy formulation in an international context and highlighting conflicts that arise among competing interests in the domestic and international policy arenas. More...
Free Download